Tambuzi team sends a peace message for the Kenyan elections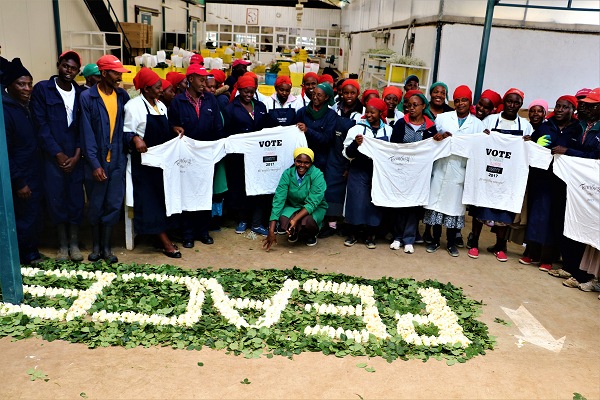 5 Aug 2017
Tambuzi staff have sent a message of peace to all Kenyans, as the country prepares to go to the general elections on Tuesday 8th August. The farm has staff from across many communities in Kenya, and all are looking forward to participating in the national exercise, that entails voting for leaders for six different levels of government.
Kenya holds one-day general elections every 5 years for the President, Governors, Senators, National Assembly members, County Assembly members and Women Representatives in the National Assembly. The 2007 election is a dark history for the country as the contested presidential result led to ethnic clashes, with many people losing their lives while many others were internally displaced.
This year, Tambuzi has taken some initiatives to sensitize the staff on the importance of peaceful elections. These include;
1. The FairTrade Premium Committee (FPC) decided to print peace T-shirts for every staff member in the farm. The message on the T-shirts is "vote, peace, love and unity 2017, Ni wajibu wangu (it is my responsibility)".
2. Peace videos have been played daily at the farm food canteen during lunch hours.
3. A peace advocacy team was formed in the farm to cultivate peace amongst the staff.


The Packhouse team made a peace message on the floor with white roses and green leaves, and came together to wave as a sign of peace, as seen in the video below.