Exciting New Crops at Tambuzi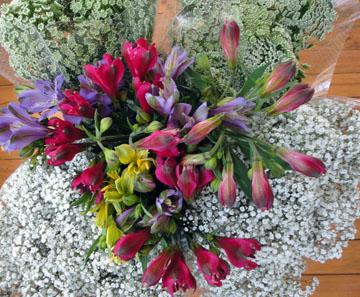 7 May 2014
At Tambuzi farm, we have 7 hectares of roses, mostly of the scented garden variety. We also have 2.5 hectares of herbs which are both floral and culinary herbs. Tambuzi has ten more hectares of land which we now want to consider growing new crops on to add to our current portfolio. Not wanting to confuse the brand of Tambuzi (whose strapline "Stop and Smell the Roses" suggests a brand synonymous with roses) we have created a new brand, which we call Summertime.
The innovators at the company thought it a good idea to do a range and selection of 'Summer' flowers – meaning flowers grown from seed or cuttings- that have a generally shorter life span compared to our roses. Harvest-wise, this means one can obtain several cuts off of the crops but then re-planting is necessary.
Initially we did trials for Veronica, Gypsophila, and Ammi Majus. While the Veronica trials were not very successful, the other two were, and have become our signature Summertime flowers. Tambuzi is also experimenting with some Scabiosa and Alstroemeria trials and we have high hopes that they will do well.
The new crops now take up 7-8 hectares of the farm. Tambuzi intends to continue with trials, as we discover new and interesting varieties.  The hope is that they may prove to be successful investments in the future as well as being complementary products to our current range.
The Nanyuki climate seems to work very well with the Gypsophila. Though it is not a product one would naturally associate with scented roses, its simple beauty works for us, and in turn it is an investment that helps balance the business. It also functions well in terms of land utilization, rotation, and creating employment.
Speaking of generating employment, this project has increased Tambuzi's workforce from about 300 people to 440. Thus 140 jobs have been created out of the Summertime flower project alone. Summertime fits in smoothly with our existing infrastructure, utilizing the same irrigation systems, crop-protection systems and pack-house as our other products, so it's a win-win situation for us all around.
Watch this space: coming soon, www.summertimeflowers.co.ke