An Ever-Shrinking Carbon Footprint: Tambuzi's Solar Power Project- Good for Business, Good for the Environment.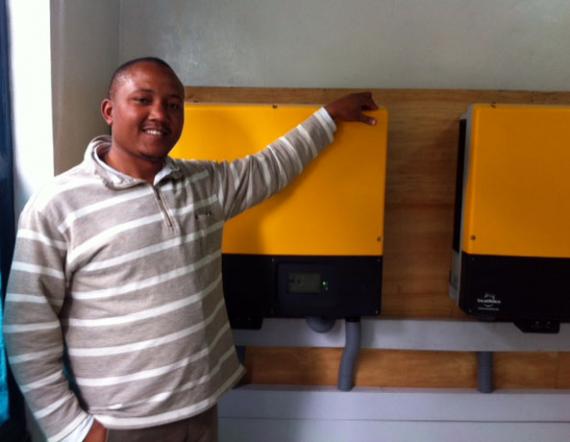 29 Sep 2016
Tambuzi has embarked on an exciting new solar power project, the second of its kind in the region, as well as in the Kenyan flower industry. The project comes at a good time, for the cost of electricity in Kenya is at an all-time high. This, coupled with frequent power cuts and irregular power supply in the country, makes a solar power venture a fantastic solution.
Before undertaking the project, Tambuzi conducted an energy audit to establish the farm's total power usage. It was determined this averaged out at 80 Kilowatts at any given moment. Tambuzi awarded Chloride Exide, a Kenyan company, with the contract to build it.  Construction began in April of this year, and it was finalised in July.
The Kenyan Bank Standard Chartered is always eager to participate in sustainable projects such as solar power.  They granted Tambuzi a 12 million shilling loan to repay in a 60 month period. So with the money Tambuzi saves in employing a sustainable energy source (rather than using regular mains electricity) the farm pays off its loan. This is around 2,000 Shillings a kilowatt. Once the sixty months have elapsed, the solar project will create direct savings for the farm.
The solar power structure is located right in the centre of Tambuzi farm. It was constructed in a large open space which receives ample sunlight. There are four arrays of solar panels set in an East-Westerly direction, with each array measuring 18m x 30m. Each array has 60 panels. The energy capacity of each panel is 250 watts in full, noon-day sun. Luckily, Tambuzi is located only a few miles from the Equator and thus enjoys a maximum of 11 hours of sunshine in good weather. The system can begin to generate energy as early as 6.30 am and has produced as much as 1000w that very hour. The conditions are clearly ideal for solar energy!
In normal solar power systems, solar panels charge batteries, batteries run an inverter, and an inverter supplies the power. Not so for Tambuzi. Tim Hobbs, Tambuzi's Managing Director, says of the project, "The most important thing about [our set-up] is that there are no batteries here, it's a direct solar feed. It is called a Grid Tie, and it actually doesn't feed back into the grid but directly into our power needs as it is generated."
Kelvin Kaguamba, the Tambuzi team member who is responsible for the installation of the project, has big hopes for solar power at the farm, "In future, the plan is to increase the energy production capacity to 120Kw as this will the meet demands of the farm's expansion plan. We want to make sure that the energy we don't use from Kenya Power & Lighting can go to other places." It is evident that a project like this poses a huge incentive to companies and individuals within Kenya seeking to invest in sustainable energy sources.
Parallel to this exciting new solar venture is another project which promises to "shrink" Tambuzi's carbon footprint. The Solar Lighting House Hold Unit is a project in which Tambuzi has supplied all their employees with solar lighting units, which consist of a pack of four lights, connected by long cables, which enable an entire home to be fully lit. The units are designed with sockets for stereos/radios and cell phone chargers. "It's great," Tim Hobbs says, "the children can do their homework, while mum cooks and dad reads the newspaper!"
Tambuzi has linked up with the Waitrose Foundation to pilot this project. The company paid the total cost of the units up-front and in full, allowing the price of each individual unit to be reduced from 10,000 ksh to 6,000 ksh, an amount which is paid off by the farm workers over a period of time. The monthly payment the workers make to repay the loan is less than they would use for fossil fuels each month to run their lanterns in their homes, meaning they have a little left over every month for themselves.
Tambuzi is making great progress in reducing its carbon emissions, by experimenting with and implementing new and sustainable energy sources. But most importantly, Tambuzi is setting an example for other businesses in Kenya to make a difference in the future, both for Kenya's people and the environment in which they live!
Look out on the Tambuzi website for our monthly carbon reductions report!