A Day out at Ol Pejeta Conservancy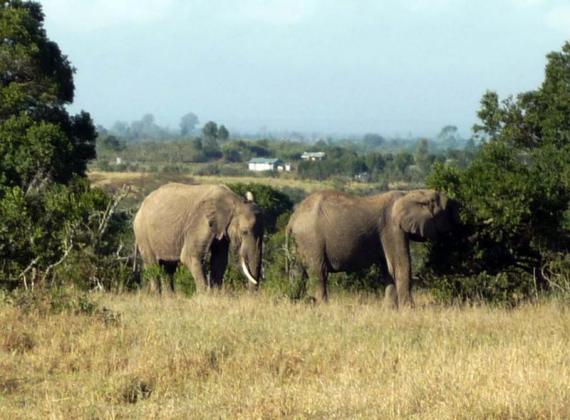 17 Apr 2012
Two mature elephants at the Ol Pejeta Conservancy
The Managers at Tambuzi realized that virtually none of our staff had ever seen an elephant or lion, despite living within 30 minutes driving distance of the Ol Pejeta conservancy. Ol Pejeta is East Africa's Largest Black Rhino Sanctuary and is the only place in Kenya to see chimpanzees. It also holds some of the highest predator densities in Kenya. We decided to set up a program whereby every member of our staff could have the opportunity to visit Ol Pejeta, and to enjoy the remarkable wildlife that their country of Kenya has to offer. Mercy Okomo, Tambuzi's young and creative marketing assistant, has kindly given us her account of the day.
"We began our trip to the beautiful Sweetwaters conservancy at around 6 am. It was a chilly morning as we started out, but by the time we arrived the gate some four hours later, the sun was bright and warm. This was an exciting day for the Tambuzi team, for instead of the usual Wednesday work in the office, we were at the conservancy watching animals and relaxing! After being cleared at the gate we had not driven for more than ten minutes before encountering two mature elephants. Everyone was so excited that we forgot the first rule of the conservancy and drove off the road to get closer to them. Luckily enough one of the wardens reminded us to stick to the road and we got back on track. We marveled at how big the African elephant actually is, and how the ones we observed seemed to remain calm even though we came so close to them.
We got to see a variety of species such as impala, Grevy zebra, giraffe, warthog, water buck, buffalo, bat-eared fox, eland and a number of birds. We were fortunate enough to observe a pride of lions lying out in the open savanna grassland. What a rare privilege to see the king of the jungle! We even drove to the chimp enclosure and were able to see Max, one of the oldest chimps in the conservancy.
All of us agreed it was a most fulfilling day. At around 1 pm, when the majority of the animals had withdrawn from the open fields to rest from the sun, we decided it was a good time to head for home. As we departed, heavy clouds gathered and just as we arrived at the gate there was a heavy downpour. This lulled most of us to sleep in our seats as our driver brought us safely back to the farm. We all wish to say a big thank you to Tambuzi, and also to the Parfum Flower Company, our partners in the Netherlands, for sponsoring such a fantastic trip."